TEXT: Merle Wilkening | PHOTOS: Haris Ahmed
ARTICLE CREDITS : GG Magazine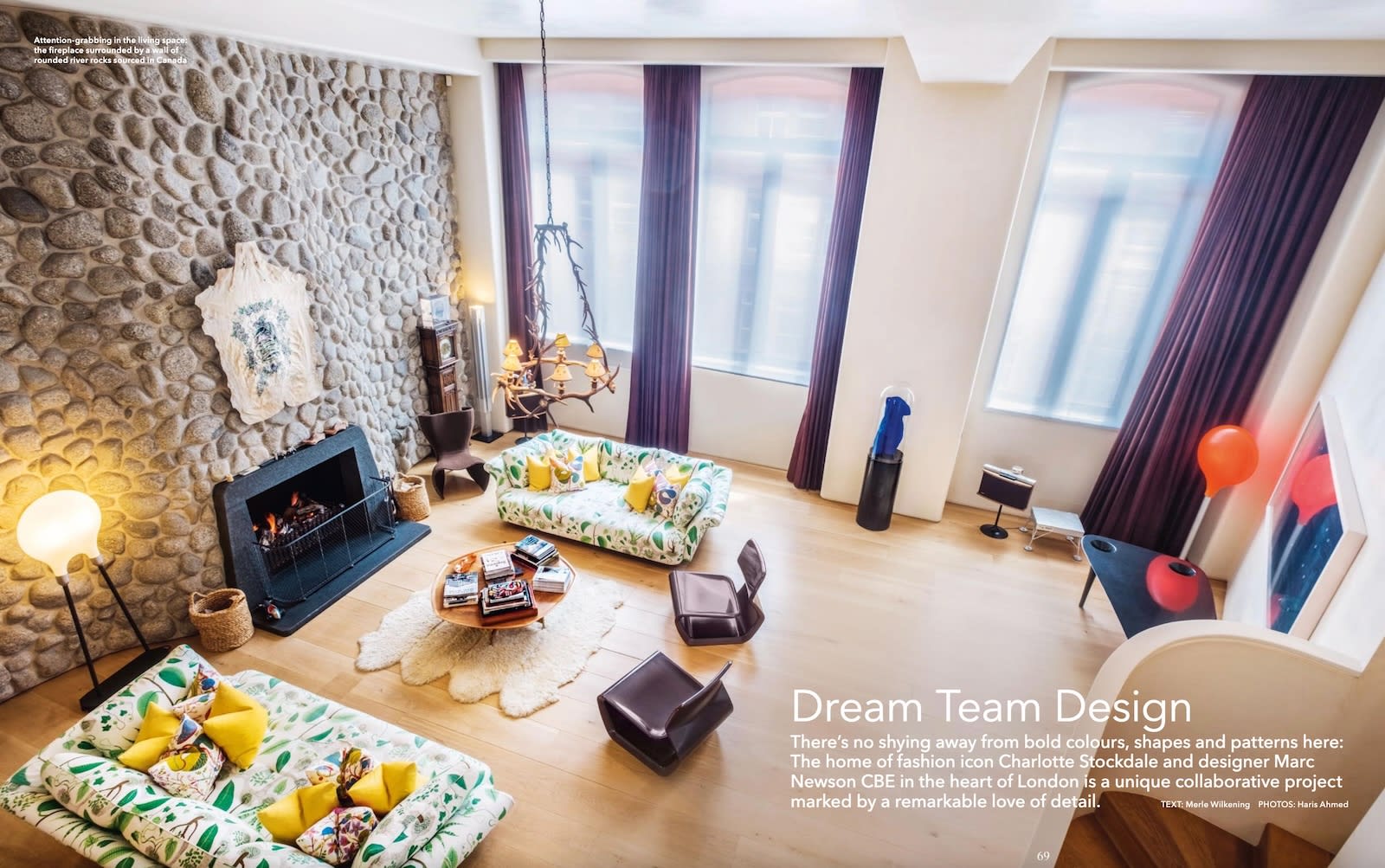 This duo has a masterful eye for style and a love of detail. She made her name in the international fashion world, while he is a world-renowned industrial designer. Charlotte Stockdale and her husband Marc Newson have created a unique home for themselves in the heart of London. With their very own designs and no qualms about colour, this dwelling is a testament to the power of design to change our moods and enhance the everyday.
Constructed in 1894, 8 Francis Street in central London was originally a sorting office for the Royal Mail before it was purchased by the developer Alessandro Crivelli. Initially envisaged with 122 flats, in the end, a more sympathetic design of just nine incredible apartments was decided on, as well as commercial space that would become the offices of the auctioneer and art dealer Simon de Pury, the fashion designer Tom Ford, and Marc Newson. One of these apartments was to be the home of the Australian designer and his wife Charlotte.
Stockdale has been an editor at Vogue and i-D, working closely with a host of fashion royalty throughout her career. Together with Katie Lyall she founded the label Chaos and the magazine "Chaos SixtyNine". Newson is renowned as an era-defining designer, famously working with the likes of Hermes, Louis Vuitton and Nike, and as part of the design team behind the Apple Watch. His Lockheed Lounge seat set the record for the highest price achieved at auction by a living designer. It was Newson who became aware of the property being available, from Crivelli. "I was staggered to find there were some cavernous spaces still available in this location, which I thought were impossible to find".
The near 4,500 sqft, four bedroom, four bathroom apartment is entered on the second of just three floors. First walking into the newly purchased space, the couple were confronted by "grey, lots of grey and red brick". But it was not destined to become a classic loft apartment: "On the one hand, we loved the volume that you get with a typical New York style loft, but we didn't like the sterility of loft spaces.We didn't want something that was simple,square and boxy, made with glass and steel. We wanted not only to preserve the inherent charm of this Victorian-era building, but to enhance it, too."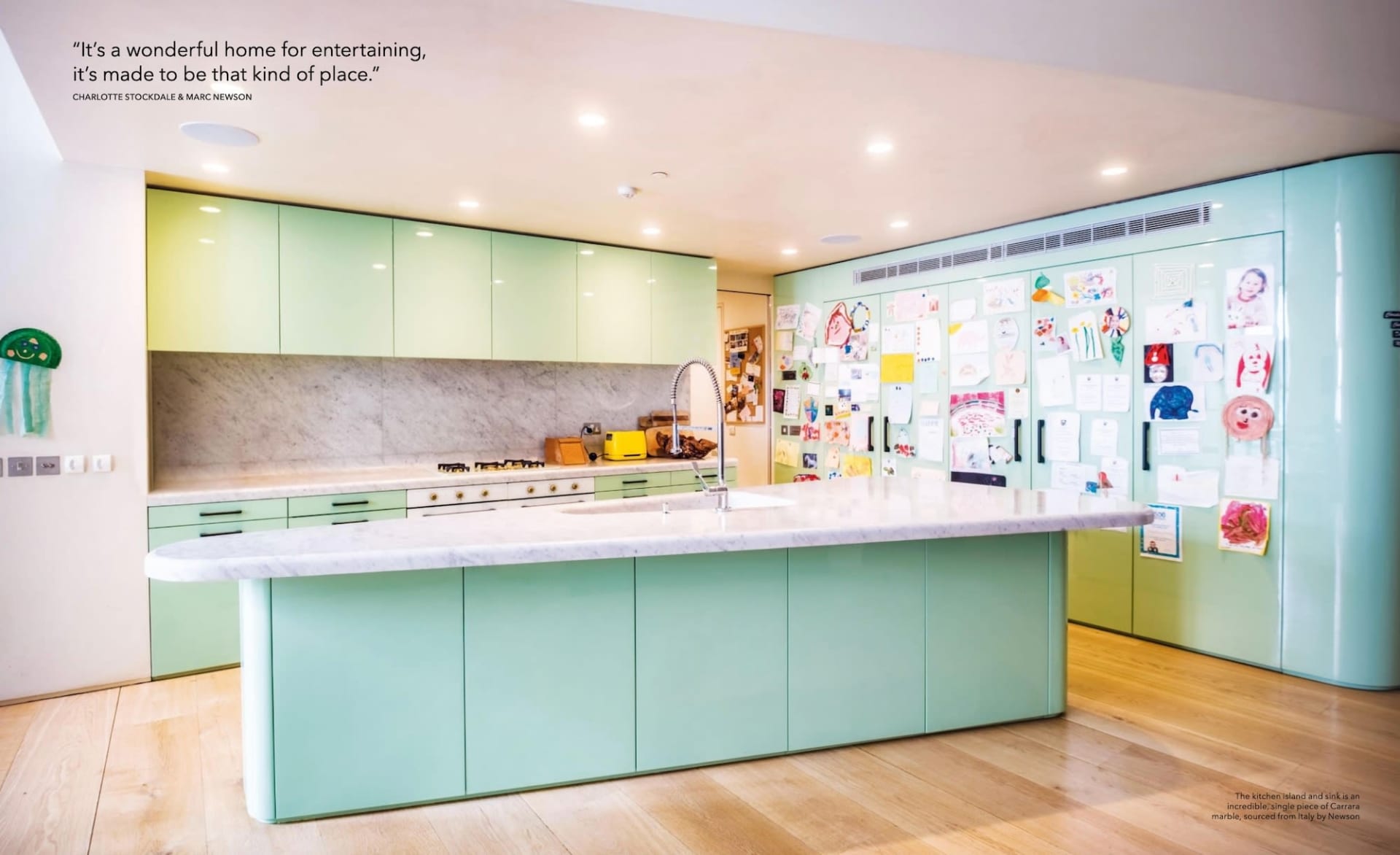 The building was completed within 18 months. The beating heart of this home is an 80 ft kitchen and living space which can be divided by a sliding, lacquered panel and comes with seventeen foot ceilings. It is ideal for entertaining: "We've had sit down dinners for 40 people several times and stand up parties for over 80 people," they reveal. One side of the living space is clad entirely in rounded river rocks. "Sourcing the rocks was the biggest challenge. We had them shipped over from Canada in crates, cut them in half and attached them to the wall like a giant jigsaw."
As you would expect from a couple with such incredible fashion and design pedigree, the property is replete with original fixtures, fittings and pieces by Newson that are admired by design aficionados worldwide: sculptural Diode lamps, the low Voronoi shelf, two Micarta chairs, and the incredible Black Hole Table. The kitchen island, including the sink, is a remarkable, single piece of elliptical, Carrara marble sourced from a factory in Italy. Newson worked with Smeg to design the oven and hob that is in a green tone to match the palette of the cabinets.
Departing the first floor, it is a glorious juxtaposition to find yourself entering into the olde world of the cosy oak-panelled library. In the principal bedroom, green wallpaper seems to envelop the entire space. "We wanted to bring some warmth and character to the room, so I chose the colour, Marc designed the wallpaper and I had matching curtains made. It's a calming and tranquil room," Stockdale says. You are welcomed here by another highlight of the apartment:
the bathroom. which is adorned almost entirely in an exotic marble called "Striato Olimpico". "It was a huge effort to create, but as a bathroom it is essentially a wet area, so it's also incredibly practical," Newson adds.
With its curve and flow, quirky, with a sense of humour and warmth, this property represents a singularity as a design space, but also a Newson/Stockdale collaboration. "It's been an incredibly collaborative project. It's the only one that is on the market and maybe the only one that ever will be."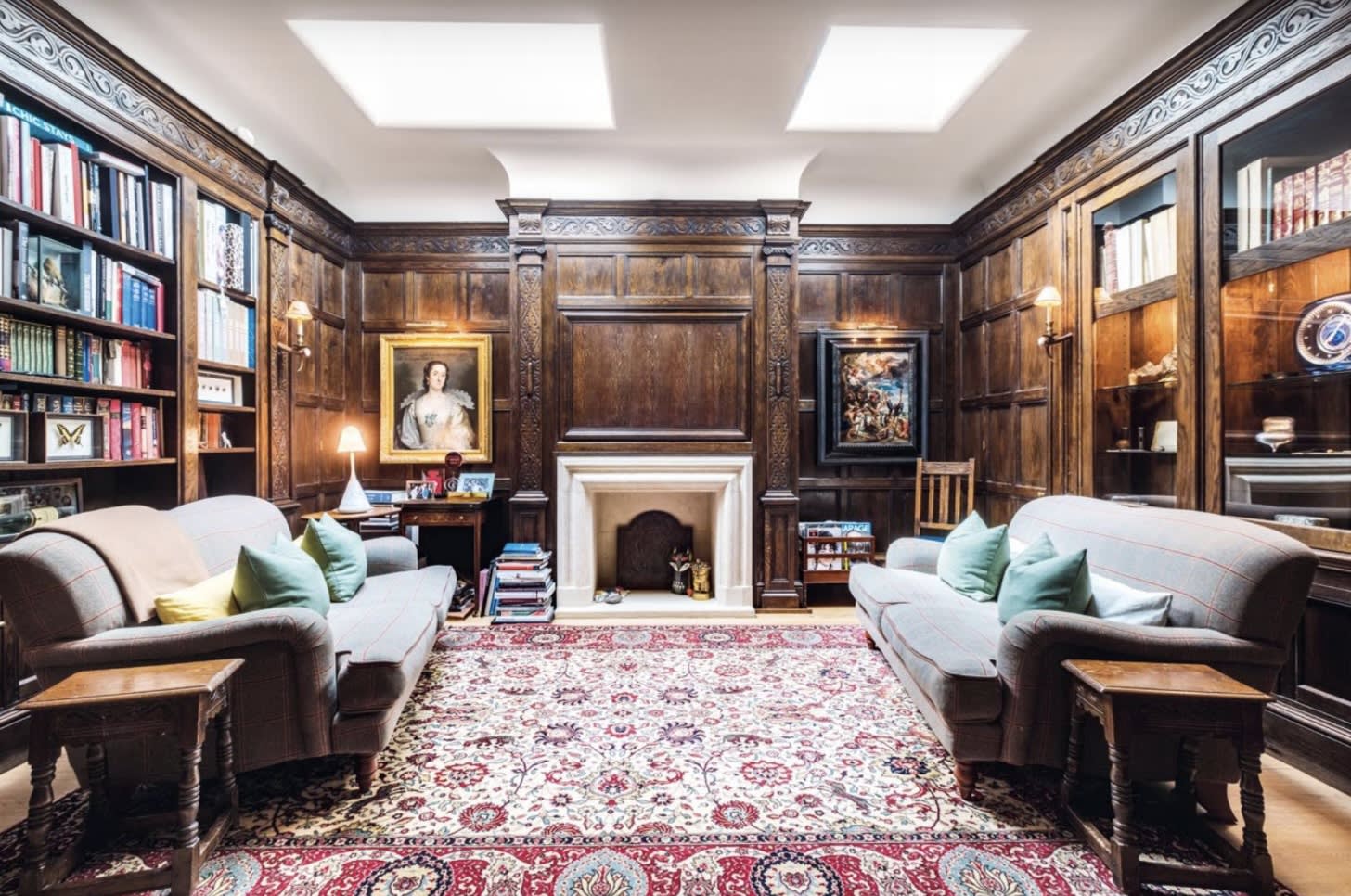 _________
Step into the world of Toronto's most prestigious neighborhoods with our luxury real estate team - Nissan Michael & Grace Chan from Engel & Volkers Real Estate Brokerage in Toronto. From the opulent estates of Bridle Path to the refined elegance of Forest Hill, the timeless charm of Rosedale, and the vibrant allure of Yorkville and The Annex, we specialize in finding the epitome of luxury. Contact us now to explore the world of refined real estate and make your dream home in these exclusive enclaves a reality.