WORDS: Steffi Kammerer
PHOTOS: © seaside-hotels.com
SOURCE : Article from GG Magazine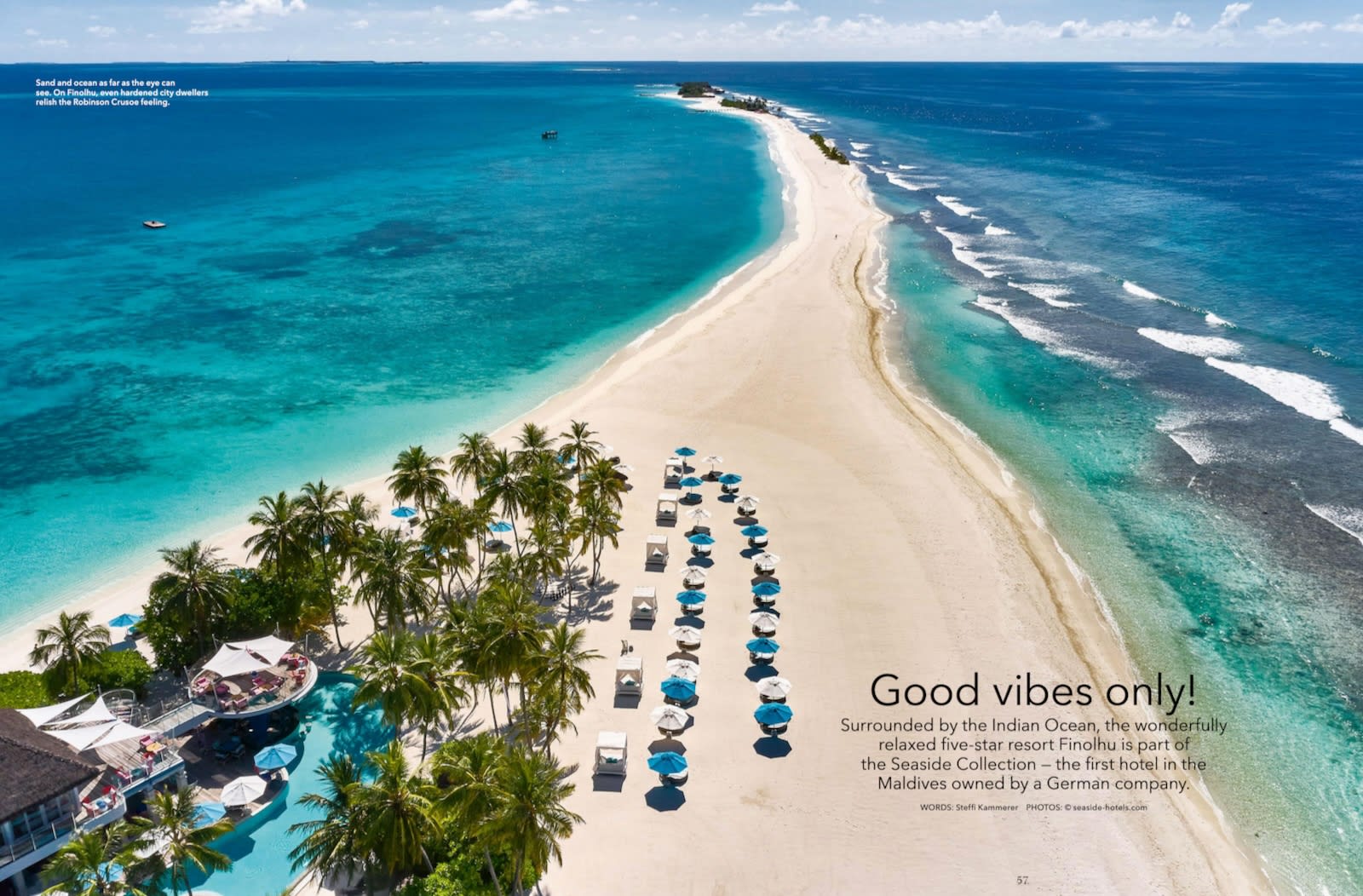 The Indian Ocean is a haven for manta rays and dolphins, the scenery a blaze of vibrant colors. The resort in the Baa Atoll is the tropical pearl in the portfolio of the Seaside Hotel Group, which was founded in the 1970s by Theo Gerlach. Today his son Gregor runs the company together with his sister.We met him at their headquarters in Hamburg.
How does a European hotelier come by a project like this in the Maldives?
We were on the lookout for something suitable because we hadn't opened a new hotel for almost 20 years; the last one was the Side Hotel in Hamburg back in 2001. The criteria were clear: We wanted to have as many European guests as possible because they're who we know and understand best. And it was to be a destination where winter is the main season. After looking into Morocco and Venice, we fell in love with the Maldives.
Had you ever been there before?
No. And before I flew there for the first time I said to my wife: I bet it's boring on a little island like that, surely you run out of things to do after a couple of days. Then, just before Christmas 2018, we heard about this hotel in the Baa Atoll. The realtor said we could still make an offer but only had a few days' time. Then I flew there with my father on December 22, for 24 hours. He'd just turned go at the time. We were immediately captivated by this special little island with its stunning lagoon and endless beaches. We signed the contract in March 2019 and took over in May.
Corona struck a year later. How did you use the time?
We spent almost all of 2020 upgrading, so in terms of timing it couldn't have been better. The hotel was already two years old at the time but it wasn't going very well; the way it had been finished was a bit loveless. We worked with a London-based interior designer who advised us to add love and luxury to the mix. The classic Maldive hotels tend to have heavy interiors with lots of dark wood. But we went for an upbeat feel and color instead, which is more in keeping with the European understanding of how you want to feel on vacation.
More of a Mediterranean vibe, then?
Not exactly, no. We tried to interpret it for this part of the world: a Robinson Crusoe feeling, barefoot, easygoing, open air. But from a European angle. It's the same when it comes to the dining experience: People want to eat Asian food, but not chicken feet. I'm worlds away from serving up traditional German dishes in the Maldives, but the local cuisine has to be right for our clientele; spicy is fine, just not too spicy.
You were booked out over the New Year's break, so your concept evidently took off quickly?
We've established a loyal customer base in Germany and are lucky in that a lot of travel
agencies recommend us.
Travel agencies? Are they actually all that relevant these days?
It's rare for somebody to spend so much money via booking.com. As a rule, they book via a travel agent. And particularly when the destination is so far away, it all comes down to trust: Where am I sending my customers? We have far more European guests than most other resorts in the Maldives, especially from Germany and the United Kingdom. Before the war a lot of Ukrainians and Russians came as well, but that's dropped off now. We often have American guests too.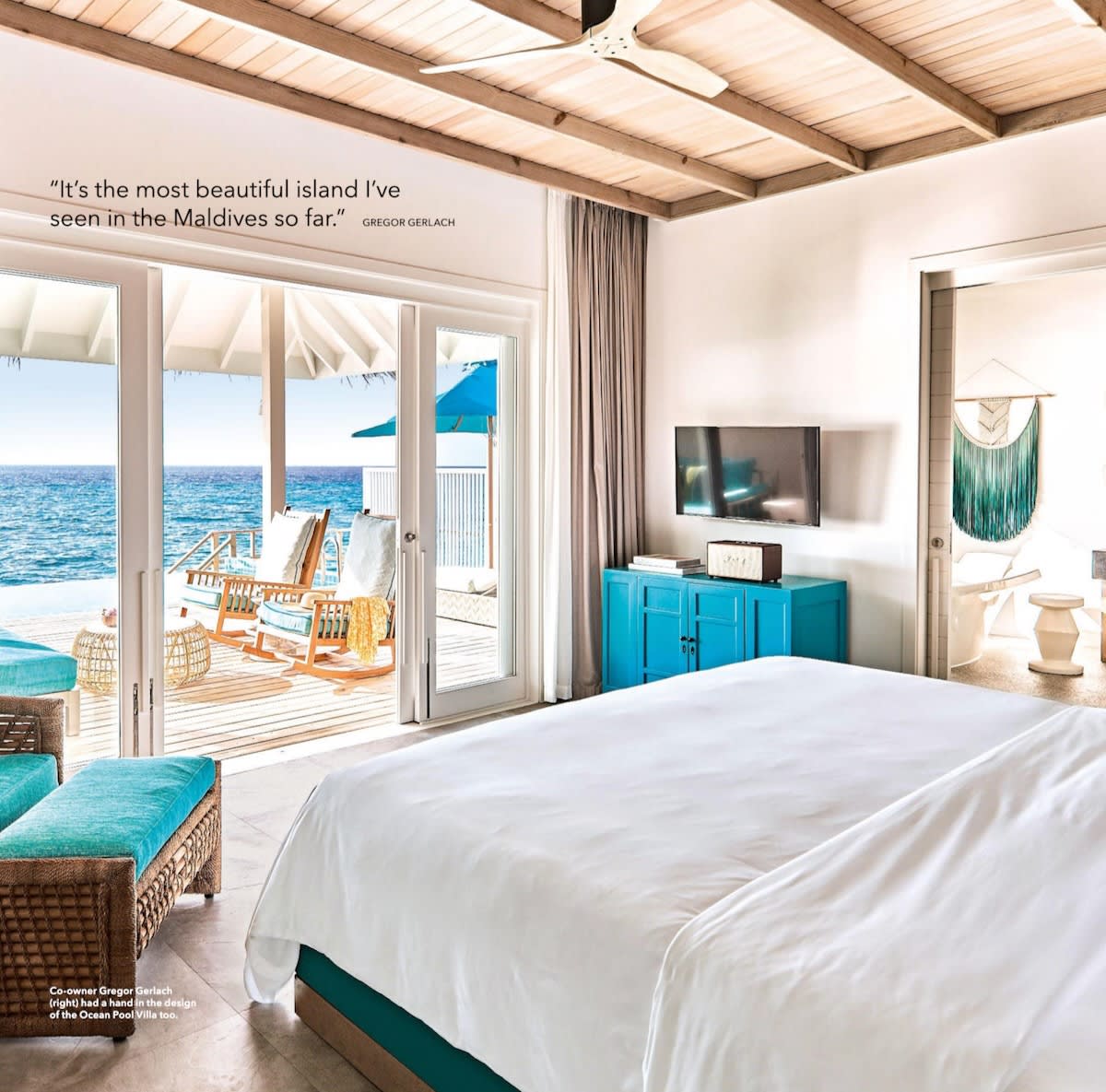 You have plenty of space...
Finolhu consists of four islands. Depending on the season, you can either walk along the sandbank from one to the other or take the boat. On island one there are 125 villas, three restaurants and the spa. Our Crab Shack restaurant is located on island two. Islands three and four aren't being used right now, but building is scheduled to start soon - and the places will be very roomy! We're planning seven super-exclusive villas on island three, with prices starting at €5,000 per night. And on island four there'll be just one villa, all on its own, which will start at €20,000 per night. It will have 1,000 square meters of living space and include a sauna, a cinema, and its own open kitchen.
You're confident of finding enough guests who'll be happy to pay for that extreme level of luxury?
Yes, we've thought about the investment very carefully. We've seen that, with our existing suites, the big ones are always really well booked and demand for them is particularly high. What we can offer on these two islands is pretty unique: total seclusion that can be ended at any time if you happen to feel bored. Then you just call the butler, hop on the boat and he takes you to the main island, where the tennis courts and the big spa and the different restaurants are waiting. Or our marine biologist, who goes snorkeling with the kids.
How do you operate such a far-away project on a day-to-day basis?
Finolhu has turned me into a WhatsApp user! And I write emails every day too, of course. Plus I go there every two months. We've got our general manager on site, but we're very
much involved as well.
So you know what the tablecloths look like...
Oh yes (laughs)! They're chosen here, actually. And whenever there are new dishes we try them and award points from one to 10. A dish has to score at least eight points to make it onto the menu. Sometimes my sister is there, sometimes I am. We tried doing it without one of us being there, but it didn't work because Asians never give fewer than eight points. I never have to question my sister's scoring. It's different when you're dealing with family, you know each other much better. And for both of us, it's our money that's involved.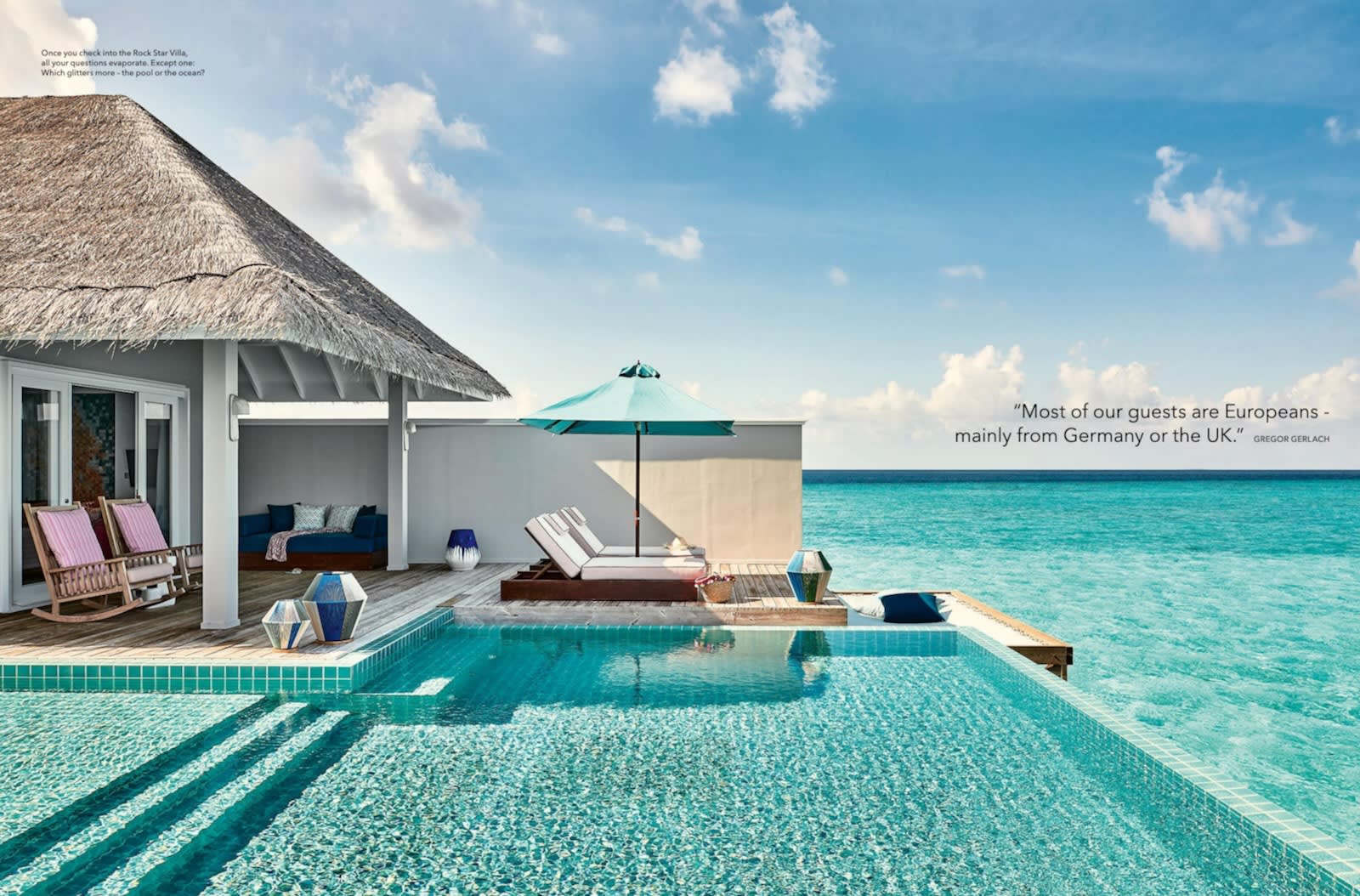 Your father built the company in the 1970s. Today it belongs equally to you and your sister. What was the handover like?
You know how it is with fathers: It's a long, drawn-out process (laughs). But yes, it worked out well. And of course we're really lucky that we do so many different things in different places, so we can keep out of each other's way and then do something together again. We don't work at adjacent desks day in, day out, but we can still swap our thoughts and ideas. My sister and I don't really divide things up between us in an official way. Each of us takes care of things wherever they happen to be. My sister is on Gran Canaria more, I tend to be in Germany more, and we both do a bit for the Maldives.
You grew up with hotels. Have you ever seriously considered doing something totally different?
I was with McKinsey for a few years. But being at the helm of your own company is a very different story. My sister and I have just got into the cruise market. We founded Riverside Luxury Cruises and are kicking off with five exclusive ships. Our first trips on the Rhine, Rhone and Danube will start in April.
_________
Step into the world of Toronto's most prestigious neighborhoods with our luxury real estate team - Nissan Michael & Grace Chan from Engel & Volkers Real Estate Brokerage in Toronto. From the opulent estates of Bridle Path to the refined elegance of Forest Hill, the timeless charm of Rosedale, and the vibrant allure of Yorkville and The Annex, we specialize in finding the epitome of luxury. Contact us now to explore the world of refined real estate and make your dream home in these exclusive enclaves a reality.