WORDS : Silke Bender
PHOTOS : Robert Gallagher / Joyo
SOURCE : Article by GG Magazine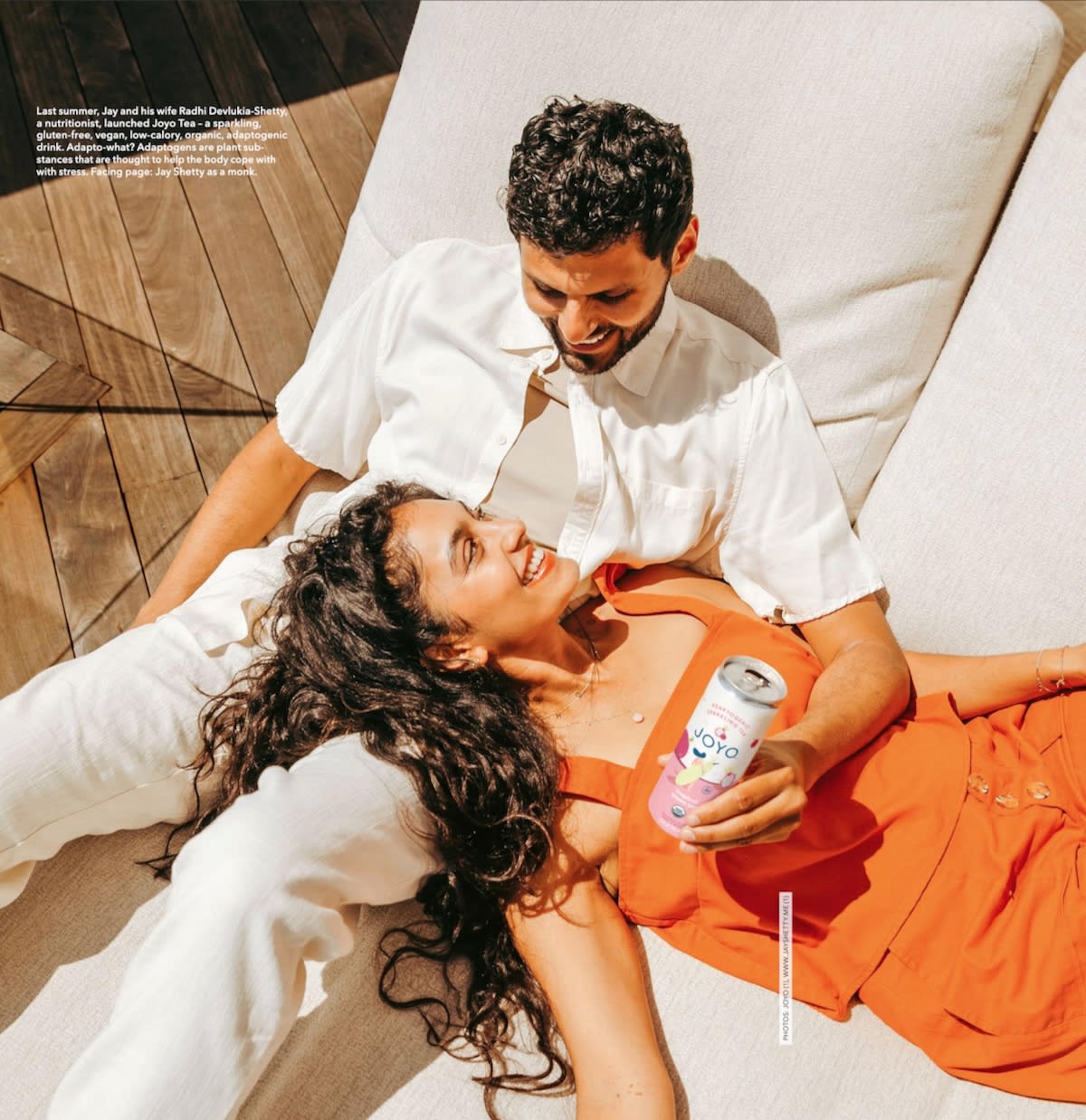 Ancient teachings reinterpreted: How the former Hindu monk turned into a dedicated life coach. Today Jay Shetty is a social media star with an online following of more than 47 million. His first world tour to promote his new book "8 Rules of Love" is filling halls and stadiums from Singapore to Paris.
The Jay Shetty phenomenon broken down by numbers: Through Facebook, YouTube, Instagram and Twitter, he has reached more than 47 million people. His videos have received more than ten billion clicks. On Purpose is the world's most successful podcast in the health and wellness sector and "Think Like a Monk," his first book, was a number one New York Times bestseller. Jay Shetty has even officiated Hollywood weddings. Who is this man and what is his secret?
With his pale gray eyes, medium stubble and a boxing glove tattoo on his neck, Jay Shetty, 35, is something of a poster boy for ancient Indian wisdom with a contemporary twist. Part guru, part pop star who grew up on the internet, his motivational speeches fill stadiums across the U.S. Never before has someone with such sex appeal so entertainingly offered philosophical advice on how to live a full and meaningful life. Whether it's people's dreams, aspirations, anxieties or disappointments in situations connected with their love life, family or work, smart, beaming Jay Shetty always finds the right words of encouragement. Why am I still single? How can I improve my self-discipline? Why should I never compare myself to others? How do I find my true vocation?
Depending on the medium, Shetty packages his wisdom in easily digestible nuggets: short aphorisms, lengthier podcasts consisting of interviews with celebrities or highly professional video clips. On several occasions, Google, HSBC, Facebook and Nasdaq have all invited him to come and speak. At first glance, the inspirational tidbits he offers don't appear to have much more substance than a calendar quote. In his book "Think Like a Monk," for instance, he writes: "When we look for the good in others, we start to see the best in ourselves too," and on Instagram: "You can't be in a committed relationship with someone who is inconsistent with you," after which he adds, "Read that again." In a caption, he puts: "Love is a daily effort. Some days it may come easier than others and that's OK, but what should always stay consistent is the respect and admiration you have for your partner's values and goals."
But when top model Gisele Bündchen commented with a "praying hands" emoji, U.S. tabloids published several articles speculating on whether this meant she was finally divorcing her football-star husband Tom Brady. What Jay Shetty says and the way famous people react has a very real effect. Hollywood in particular appears to hang on the Bollywood sage's every utterance. Will Smith used Shetty's podcast series on YouTube to philosophize about the price of success, and Jennifer Lopez and Ben Affleck chose Jay Shetty to officiate the ceremony when they got married for the second time.
The art of storytelling is probably the oldest and most successful marketing strategy in the world, and Shetty is a master storyteller. The short version of his life story goes something like this: Once upon a time there was an unpopular and unhappy teenager with Indian roots growing up in North London. While at college studying business administration, he heard a Hindu monk speak, upon which he left the U.K. immediately after graduation to live as a monk in India for three years. Returning home with a suitcase full of wisdom but unable to find a job, he began sharing his thoughts and the story of his failure on social media. Then he met the woman of his dreams, became a celebrated star and started earning millions virtually overnight.
This type of story has always been received enthusiastically in the U.S., and in Hollywood in particular. So it's hardly surprising that British-born Shetty achieved his breakthrough there and now lives in Los Angeles - the global capital of self-marketing, where wealth and success are as much an obsession as spiritual growth and the search for meaning. Yoga was elevated to a national sport in L.A. by the Lifestyle of Health and Sustainability (LOHAS ) demographic in the early 2000s, followed closely by meditation and vegetarianism. All three of these practices originate in India, and they provided fertile spiritual ground for Jay Shetty's success. Not only can he explain ancient Indian philosophy in a fresh and inspirational new way but as the authentic face of diversity - whether ethnic, secular or cultural - he is the perfect person to do so. Shetty isn't just a marketing genius and an extraordinarily good speaker, he also has the right aura and an excellent sense of timing.
His first major TV appearance was on the Ellen DeGeneres Show, where he described his career to the queen of queer television in the following words: "I grew up in London, in an Indian family where you could become one of three things - a doctor, a lawyer or a failure. My family was convinced I had chosen option three: Instead of attending my business school graduation ceremony, I headed to India to become a monk."
For three years, he says, he got up at 4 a.m every morning, meditated for four to eight hours, studied philosophical writings and dedicated his life to the service of others. He describes the most important lessons that he learned during this period like this: "The value of material things was considered little to none. Mastering the mind wasn't an option, but a necessity for well-being. Discipline was a joyful and powerful force of self-care. Empathy, peace, mindfulness and love were the only paths to abundance and success." One of his teachers eventually urged him to share what he had learned with others rather than continue living as a monk himself, so at the age of 26 and heavily in debt, Shetty returned to London, moved in with his parents and proceeded to try to find employment. Of the 40 applications he sent out, all 40 were rejected.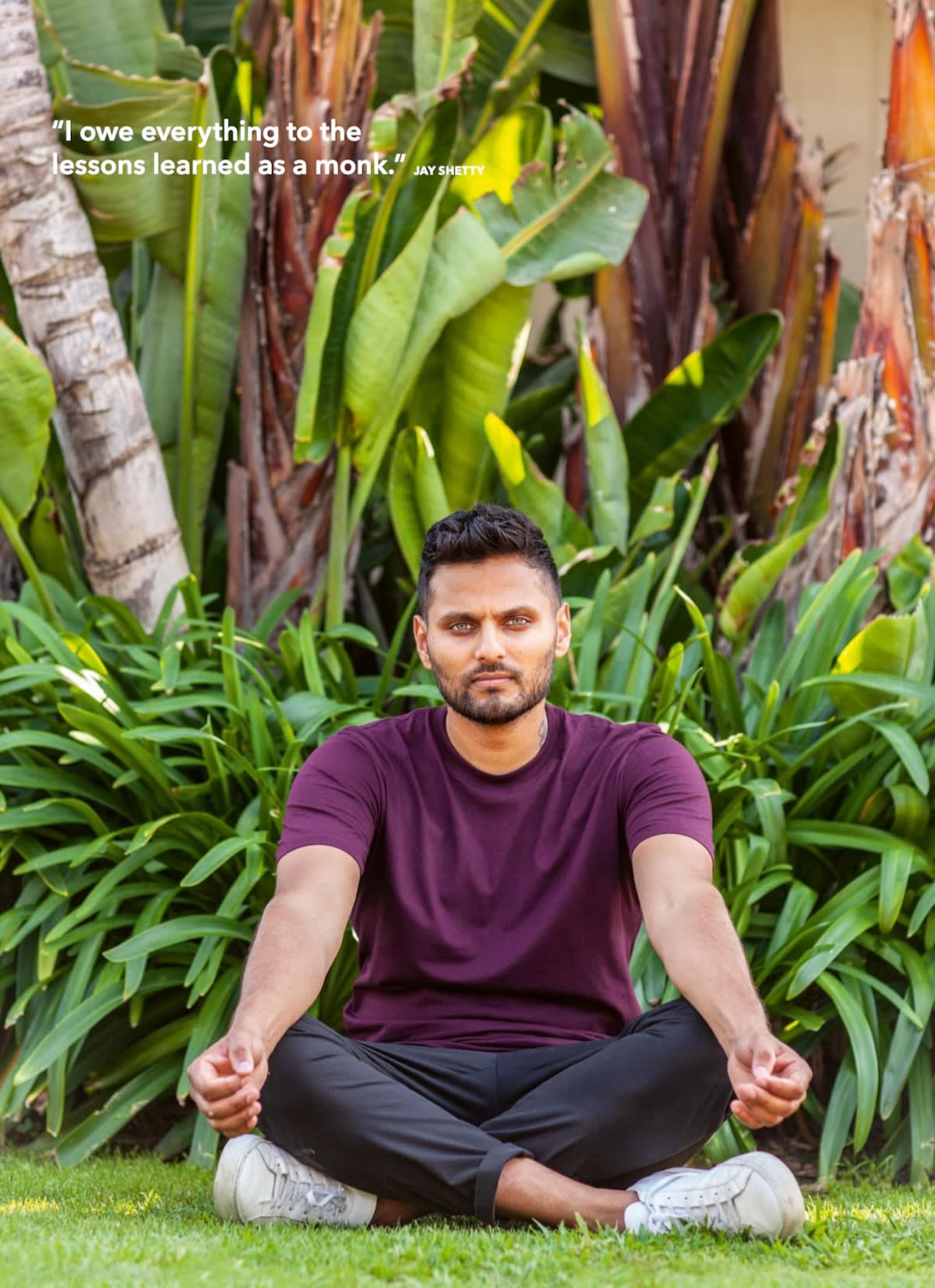 Evidently, corporate personnel managers couldn't have cared less about his experiences as a monk, but several of Shetty's former fellow students felt quite differently. After graduating from university, some of them had started working for big companies, but were unhappy in their jobs and suffering from stress. So they invited Shetty to coach them on how to improve their well-being, set goals and practice mindfulness. In this roundabout way, Shetty found a job with the corporate consulting firm Accenture as head of social media.
When Shetty began posting private motivational videos on Facebook, he drew a lot of attention. He also caught the eye of journalist Arianna Huffington, who offered him the job of producing videos for her New-York based news portal The Huffington Post. Crossing the Atlantic gave his career an extra push. Good-looking Jay Shetty and his equally attractive wife Radhi Devlukia-Shetty - freshly married were welcomed to the U.S. with open arms.
In 2017, Forbes Magazine included Jay Shetty in its annual 30 Under 30 Europe list, naming him a game changer in the media sector. In 2018, after being viewed 380 million times, Shetty's video "Before You Feel Pressure" made number one on Facebook. Shetty's future certainly looks golden. The spiritual self-help business is a booming industry in the U.S. with annual growth figures in the double digits every year. Valued at roughly $2 billion in the U.S. today, this lucrative market is expected to expand to around $9 billion worldwide by 2027.
A host of celebrities have also jumped on the bandwagon: Talkshow diva Oprah Winfrey and singer Alicia Keys have teamed up with alternative medicine guru Deepak Chopra to produce a multiple-session meditation app that addresses things like The Divine Feminine or Inner Peace. At $50 a session it is even relatively affordable. And after collapsing from exhaustion herself, Shetty spotter Arianna Huffington founded Thrive Global, a startup dedicated to mental health and preventing burnout. So far, it has raised $150 million in several rounds of financing.
But Shetty is still the superstar of the bunch, commanding $200,000 a pop for speaking at live events. VIP tickets to his first world tour cost up to $750. This includes meditation and a meet and greet before the show.
Shetty's image lost a little of its burnish a few years back when saucy Canadian YouTuber Nicole Arbour posted a well-researched video in which she challenged Shetty to refute her claims that not all of his wise words were actually his own but that some of them were plagiarized. Reacting as wisely as a monk, Shetty quietly deleted 113 posts, disappearing them into nirvana. Then he posted the following universal truth on 'Twitter: "If you can laugh at yourself, you will never run out of things to laugh about." This time he remembered to attribute the quote - to the Roman philosopher Epictetus.
_________
Step into the world of Toronto's most prestigious neighbourhoods with our luxury real estate team - Nissan Michael & Grace Chan from Engel & Volkers Real Estate Brokerage in Toronto. From the opulent estates of Bridle Path to the refined elegance of Forest Hill, the timeless charm of Rosedale, and the vibrant allure of Yorkville and The Annex, we specialize in finding the epitome of luxury. Contact us now to explore the world of refined real estate and make your dream home in these exclusive enclaves a reality.